Inefficient air removal – the culprit.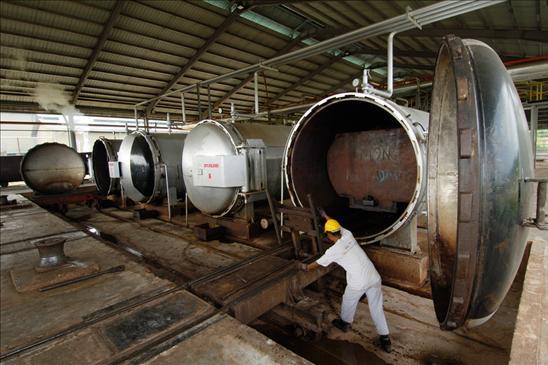 Steam management and boiler operational issues at palm oil mills continue to remain problematic and have yet to be satisfactorily resolved. The root cause can be traced to the inefficient method of air removal at the steriliser station.
Inefficient usage of process steam arising from using outdated and inefficient methods to evacuate residual air in the steriliser vessels is the main cause of unrelenting problems at palm oil mills, particularly those affecting boiler operation – currently widespread at palm oil mills.
The Air-Void® has been created specifically to solve the above-mentioned problem.
Inefficient method of air removal – the culprit
The time and the ability to sterilise materials are significantly affected by ineffective air removal. The effective evacuation of trapped air in the steriliser vessel at the onset of the sterilisation process is critical to ensure achieving the right heat treatment of palm fruits. However, many palm oil mills operating conventional horizontal sterilisers employ air release methods that are not efficient. At present, trapped air is removed through dilution by using multiple steam pulses, in which the steriliser vessel is alternately pressurised and then depressurised to near atmospheric pressure. This invariably leads to the excessive and sharply fluctuating process steam demand, and a long process time to meet contemporary sterilisation requirements. A further consequence is the reduced throughput of the sterilisation station.
By addressing the issue of inefficient residual air removal, which is the basis of inefficient steam usage at the steriliser station, the following attendant problems can be resolved:
Wasteful steam usage at the mill.


Inefficient residual air removal method employed during the sterilisation cycle results in wasteful steam consumption and highly fluctuating steam demand at the steriliser station, a common problem plaguing palm oil mills today. This leads to frequent large draw-down of live steam from the boiler through the make-up valves bypassing the backpressure steam turbine to meet rising demand, and steam blowoff to atmosphere during falling demand. This gives rise to further steam loss at the mill increasing boiler load and consuming large amounts of fuel to raise steam.

Boiler operational woes.


The excessive and fluctuating steam demand of the sterilisation process cascades to exert an onerous load demand on the boiler operation. An unstable boiler operation results in 'black smoke' emission from the stack, a non-compliance with regulatory boiler stack emission limits. Boiler plant maintenance issues and downtime are increased.

Low and inconsistent process steam pressure.


The above two problems usually exist alongside low and inconsistent process steam pressure throughout all the mill operations causing process inefficiencies in each station. The excessive and fluctuating steam demand of the sterilisation process causes varying pressure in the back pressure vessel, which in turn leads to inconsistent process steam pressure across the mill.
'The Air-Void' solves the above problems by allowing for speedy and efficient air removal from the steriliser vessel through a novel steam flushing method right at the very start of the sterilisation cycle. The air-removal phase ensures that the steriliser atmosphere is almost void of air. The results are dramatic; adequate thermal treatment with:
a shorter time for sterilisation,
a lower-temperature process steam,
a lower steam consumption, and
a higher throughput of the sterilisation station.
The above four outcomes translate into drastic improvements in process steam management and equipment capacities.
Fitting conventional horizontal sterilisers with the innovative fast-acting Air-Void offers several advantages and contributes to overall improved process efficiencies and performance as elaborated below:
Easy, seamless and relatively inexpensive integration.


The Air-Void offers seamless integration with existing conventional horizontal sterilisers, making expensive infrastructure investments unnecessary. It is a viable solution for palm oil mills of all sizes.

Speedy solution.


It is a swift 'drop-in-place' retrofit solution that precisely fits the application without the need for any field engineering or fabrication. Existing steam connections can be used without modification so that commissioning is quickly and easily carried out.

Enables compliance with DoE regulations.


It assists compliance with strict environmental legislation for steam boilers by avoiding boiler load swings and furnace combustion upsets which lead to "black smoke" from the boiler stacks at the mill.




Environmental legislations demand ever-stricter efficiency and control of emissions from industrial boilers and other power plant processes. For example, in Malaysia the Department of Environment (DoE) has recently introduced stricter stack particulate emission limits requiring operators to carry out online continuous monitoring of their emission parameters, whilst other countries' legislations are equally onerous.

Maintains operation of existing boilers at design parameters.


It maintains the operation of existing boilers within design load factors that brings about improved fuel feeding and boiler draft control. These are the pre-requisites for clean combustion and reduced stack emissions, which lead to dramatic cost savings.

Enables boilers for automation.


Boiler controls become amenable for full automation once boilers are rendered near-steady-state operation. Automation can now facilitate control of the boiler plant including furnace draft and fuel feed systems.
Conclusion
The Air-Void is a 'drop-in-place' retrofit solution that addresses critical steam management issues that are still present in today's palm oil mills that is affordable, quick and easy to implement. It tweaks the performance of existing horizontal sterilisers to unprecedented levels of efficiency and productivity. It makes the horizontal steriliser far superior in terms of steam usage when compared with other types of sterilisers, for example, the vertical steriliser and the continuous steriliser. For a comparison please see: Steriliser technology affects the overall energy efficiency of palm oil mills